"AND HIS NAME IS COMIC SANS!" - Sans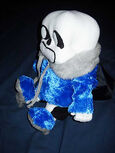 Sans is a lazy skeleton who only appeared in two specials. In the christmas special, he ruined the entire event by pretending to be "Sansta" Claus, much to the annoyance of Parara the snowman. Sans then proceeded to annoy his brother Papyrus with his jokes.
Appearances
In the 100,000 Subscriber Announcement, Sans plays a minor role.
The Episode of Super Plush PacMan; "Why Don't You Do It Fresh" foreshadowed Sans, as a future character.
Finally, he appeared in "My Lethal Deadly Valentine" as one of Double's forms. However, his face was censored.
Sans also appeared in Valenstein, albeit as a cameo.
In Total Stuffed Fluffed Island Episode 29, Kyogre mentioned how Sans should not appear in future videos.
In King K Rool's SMASHING KREVENGE, he overheard Crash Bandicoot, Ridley, and Decidueye discussing Smash Bros, but then Decidueye knocked him out of the conversation.